Tajdar O. Chaudry
Digital Storyteller, former Head of Strategy at OgilvyOne
Magali is a future thought-leader and a virtuoso who I feel fortunate to have learned much from.
I had the opportunity to sit through her series of lectures/workshops on Creativity. What initially seems like an overwhelming subject matter was systematically broken down and insightfully analyzed to produce moments of clarity so profound, one can't help to have been inspired.
She has an insatiable curiosity for the way things work and that is evident not only through the demeanor with which she passionately communicates but also largely on account of the sheer knowledge contained within her mind."
(Lectures and workshops on Creativity)

Grégory Privat
Pianist & Composer, "Victoire du Jazz" nominee
"Magali is a great partner and catalyst for professional success and personal development.
Thanks to her great analytic and listening skills, she managed to bring out my artistic universe, and identify its strengths and weaknesses to help me achieve my goals.
She raised my awareness about the links between my personal life and my artistic creativity, and made me explore them through a real introspective process.
I became aware of the barriers to my artistic and personal development. Magali also helped me explore my spirituality. A truly enriching encounter!"

Ivan Pollard
VP Global Connections at The Coca Cola Company
"Magali has a real talent for looking at the things that everyone else has looked at but seeing things they have not seen. She has an almost magical means of conjuring up interesting insights that can lead to great work.
Magali is be a strong addition to any business that focuses on understanding people and finding creative ways to engage them.
For those that like to challenge the conventions, seek the best answers and are prepared to stand up for what they believe, Magali will be a great partner"

Alfred Pavia
Creative Director and Founding Partner at Sapristi, Spain
"Thinking with the body is possible, even with a strange body like mine! A great creative experience led by a great professional who knows what she's talking about.
And above all, she does it with a French accent.
Magali´s Creativity Coaching session is one of the best professional experiences I've ever had.
Creativity brought to another level, from different points of view and lived in completely different ways. Highly recommendable!"
(Creativity Coaching Workshop)

Jesus Gallent
Creative and Branding Director at Kuombo
"Magali´s creativity coaching session is an introspection and a disruptive work to get to achieve emotional states of success"
(Creativity Coaching Workshop)

Julian Getreau
DJ – Producer – Composer
"I asked Magali to accompany me when I felt I was wasting my time being mostly focused on the past. After several work sessions including coaching and hypnosis, I radically changed my way of understanding and embracing situations.
It also allowed me to grab opportunities that I could not see while I was looking towards the past."
(Coaching sessions)
Scott Thomson
Chief Data Officer, Dentsu Aegis Network
"Magali effortlessly balances curiosity, intellect and creativity, and has been a great asset for Naked Communications.
She is fucking brilliant!"
(Former Global Head of Evaluation at Naked Communications, UK)

Nicolas Pintea
Sciences Po Paris
"Magali has an accurate perception of people´s issues and is able to provide luminous advices.
Her deep and sensitive understanding of human mind and of the professional world makes her able to clarify one's situation and to find appropriate solutions. It has been very pleasant and efficient to work with her."
(Career building coaching sessions)

David Marín
Creative Director at Cat and Curious, Spain
Magali´s Creativity Coaching session was an absolute point of disruption. We enjoyed it, there was plenty of sparks, empathy and truth. And isn´t it a definition of creativity?
We always seek tools and sources of inspiration, but the best creative instrument we have is within ourselves. What Magali does is a real creative training.
She helped us work on our beliefs, body and thoughts to unlock our circle of mental security and build exciting and fluid creative thoughts, and open up possibilities."
(Creativity Coaching Workshop)

Louise Oligny
Photographer & Video maker
"A few years ago, I went through a period of profound artistic and professional discontent.
I must admit that if today I feel satisfaction again in creating, it is highly thanks to Magali Folmer.
She quickly pinpointed what blocked me. She asked me relevant questions that helped me develop the right strategies to overcome my inner obstacles and go towards my desires in terms of creation.
Today I am fully involved in my own artistic projects.
I thank Magali for the relevance of her approach that led me to open up towards my desires and my possibilities."
(Coaching sessions)

Mathilde Bugel
Design to Cost manager in aerospace industry
"Magali's training session on "Leadership & Emotional Intelligence" was a really great experience that increased my self-confidence and helped me use my sensitivity as a strength.
The training made me take a step back and take important decisions.
Magali knows how to create a climate of trust. The entire group was immediately ready to express their feelings and to share them.
One of the things I learnt was that our body is a powerful communication tool and that we perceive and give more information than we think.
I´ve been developing my emotional intelligence with people since then and I feel it is making a difference in my relationships."
(Leadership & Emotional Intelligence)

Nicolas Revol
Improvement manager & facilitator
"It's rare to come across standout talent like Magali. I had the pleasure to meet her during an intensive 2-day creative thinking course.
I was particularly impressed by Magali's ability to create a safe, "learn and play" atmosphere, allowing to engage everyone in only minutes. This course allowed me to discover that everybody can be creative, and that there are methods allowing to help generate out of the box ideas, in particular mixing period of self-creativity and group creativity.
I regularly use what I have learned with Magali to build and animate creativity sessions within my company´s teams and start-ups to solve complex situations. They always receive great feedbacks, and participants often request new sessions to tackle other topics.
For all these reasons, Magali would be a true asset for any group or organization willing to get the best out of their creativity and comes with my heartfelt recommendation."
(Creativity & Innovation)

Luc P.
Chercheur & Analyste Information Brevet
Magali, je veux te remercier très sincèrement.
Dès les premiers instants de la formation, tu as su créer un climat de confiance dans lequel chaque participant s'est senti à l'aise pour s'exprimer et partager.
En alternant les mises en situation dynamiques suivies de ton éclairage sur des techniques de communication et de gestion du changement, tu nous as permis « d'apprendre tout en jouant ».
Nous nous sentons au final mieux préparés pour aborder l'avenir de manière positive et plus sereine."
(Change management training + communication)

Christophe G.
R&D – Pierre Fabre
"Magali nous a accompagné pour faire face au changement dans le cadre de la restructuration de notre entreprise.
Personnellement, je ne pensais pas que cette formation était nécessaire ou en tous les cas elle venait trop tard.
Nous rentrons donc dans cette salle et nous faisons connaissance avec Magali.
Doucement, comme par magie, nous commençons à nous détendre et à partager à cœur ouvert nos expériences et nos craintes. Cela nous a fait un bien fou à tous!
Magali a fait preuve d'une formidable écoute, nous a donné des outils pour une communication plus efficace. Grâce à Magali et cette formation, mes collègues et moi-même avons pu nous situer émotionnellement et psychologiquement, mettre des noms sur tous ces ressentis. Juste Merci ! "
(Change management training + communication)
Rémy H.
Acoustics, Aerospace industry
"I met Magali during the training Emotional Intelligence & Leadership. I was really impressed by her capacity to make this course very dynamic and to transmit her knowledge with enthusiasm.
I discovered that being aware of my emotions can be a strength to develop leadership. Magali has the capacity to create a climate of trust and to make people talk about very personal topics. This experience was really a great pleasure from which I took benefit for my personal development."
(Leadership & Emotional Intelligence Training)

Nancy D.
Pierre Fabre Research Institute
"When I met Magali, I was going through a period of uncertainty, with ups and downs; and I was pretty skeptical and reluctant about the need to "be accompanied" in this change.
Yet Magali accompanied me in the most appropriate way possible: She gave me the tools that were perfectly adapted to my situation; she also allowed me to better understand myself and accept my reactions, and better communicate with my surrounding.
She also allowed me to express myself freely, with confidence and without any fear of being judged.
The atmosphere Magali created was relaxed. It was a lovely interlude in my week.
I now apprehend things differently, so it was totally worth it!"
(Change management training + communication)
Katrin Büchenbacher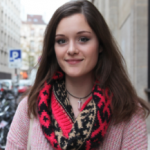 Journalist, Sciences Po Paris & Shanghai University student
"Magali Folmer's approach on career advise is both revolutionary and extremely inspiring. I've had the honour to attend her coaching sessions at Sciences Po Paris.
She enlightens her students with a mixture of passionate talks, small group reflection exercises, and collective demonstrations.
She is very gifted in giving professional guidance for self-reflection, and most of all, she knows how to ask the right questions"
(Coaching sessions)
Rubén Lloret Mira
Creative copy writer at 121 MK, Spain
"Magali has an innate gift to take you to places of yourself that you did not know existed.
In just one session of Creative Visualisation & Hypnosis with Magali, I found the answer to a question I had been worrying about for more than a year. Right after the session I felt free, light and happy. Just like when I went through the forests of northern Spain, while doing the spiritual journey of Santiago de Compostela.
Magali takes you by the hand on an inward journey, where you can get answers that help you grow."
(Creativity Coaching & Hypnosis)
OUR CLIENTS INCLUDE
OTHER REFERENCES WE WORK WITH
UNIVERSITIES & COMMUNICATION SCHOOLS
PREVIOUS CLIENTS in ADVERTISING AGENCIES as a COMMUNICATION STRATEGIST